Site Cleaning is a job that should be left to professional site cleaning contractors. Over the years we have heard tales of companies turning up with little domestic mops and yellow dusters and being totally out of their depth on site. Such tools may suffice for routine office cleaning contracts, but they are hardly apt for important projects such as the opening of a new bank branch, retail outlet or restaurant.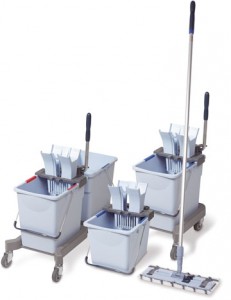 To ensure that we are not only able to do work of the highest possible quality, but that we are also able to do so in the most timely and efficient manner, we are always looking at new innovations within the cleaning industry:
FLOOR SEALING & CLEANING
To aid drying times of wet floors and to promote safety, we have adopted the mopping system from Vileda. We have found that its combination of intensive microfibre cleaning with a revolutionary new press allows floors to dry much faster, cutting the drying time down by half.
We also use this system for floor sealing. It has a thin micro-fibre pad that allows us to get right up to the edges of floors without splashing stirrings or delicate wall finishes when skirtings are not used. This avoids the expense of requiring painters to re-visit the site to cover over polish splashes or other damage.
SPOT CLEANING

We have found that Miraclean sponges are the ideal problem-solver for spot-cleaning. Working with water only, no chemicals needed, they remove tough marks, stains and ground-in dirt with a minimum of effort where other methods normally fail. We sourced this product a long time ago to remove the need to use scouring pads on delicate surfaces that may potentially cause damage.
DUST REMOVAL

We use micro-fibre technology for deep-down cleaning and dust removal. We have found these cloths excellent on formica/laminates, etc. As we don't use yellow dusters and tickling sticks (of Ken Dodd fame) we need a cloth that works well at damp wiping all surfaces eliminating damage and harsh chemical usage.
PROTECTING GLAZING

We use innovative products to clean glazing. We have sourced the best kit for overcoming access issues. Also, we have found that by using a scraper system with a blade that's so brittle the gentlest of knocks will chip it, we can effectively prevent scratching of glass when deep cleaning glazing.
PROPER POLISHING
Some of the stores we clean may have multiple floor finishes. Some needing to be polished and some not. In this situation every edge is taped prior to us sealing, to ensure a crisp finish.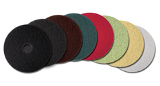 Within the specification for floors, proper colour coding of floor scrubbing pads has to be adhered to. Importantly, this ensures that the manufacturer's warranties remains valid.
We have all the specific materials and kit at our disposal to give peace of mind that the job will be done right.