Internal Window Cleaning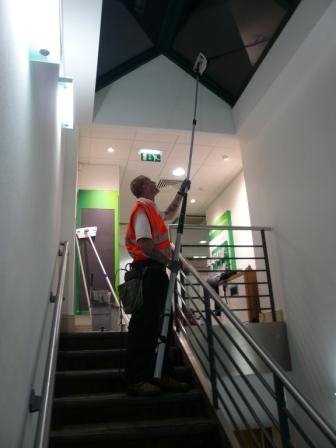 Time and time again we have come up against issues with hard to reach glazing. The issue isn't just access, but also mess.
The conventional method of cleaning glass will always lead to drips of dirty water descending. Time has to be spent sheeting up areas to protect floor finishes, stock and decorations. Carrying out these works conventionally has always lead to the need to redecorate in some areas where dirty water has soiled decorations.
Countless times we have come across glazing details that have bulkheads up tight to the glass. However, we have been able to resolve this dilemma without need to waste time on constructing and dismantling scaffolding.
The apparatus we use will clean within a three inch gap with a reach of 35ft from the ground, enabling us to clean awkward glazing details safely from the ground!
With the mop plate extended at height, we spray pure water/detergent directly on to the glass to be cleaned from a simple pump system. The glass is then cleaned using micro-fibre cleaning pads. A great solution to maintenance issues in the modern day shop fit, that allows us to confidently state that we can reach heights that other cleaning companies can't get to.
This system has simplified internal window cleaning forever. In most cases we can eliminate the need for special access equipment, allowing us to work smarter, safer and more cost effectively.
External Window Cleaning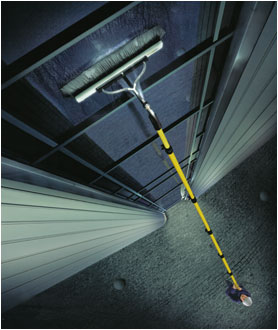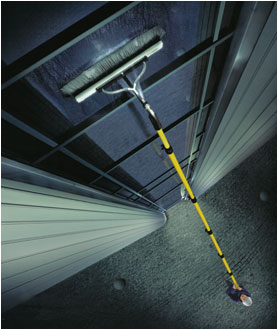 Cleaning high level external glass has now become safer, quicker and easier thereby totally eliminating the need for access kits.
This technology can also be used on signage, cladding and glass canopies.
To learn about the technology please watch the video.
To find out more about our specialist window cleaning services, please contact us directly.