Brief: Builders Clean for a well known retail outlet, including 2x coats of floor polish
Location: West Midlands, England
Site Size: 40,000 sq ft of retail space
[pullquote align="left|center|right" textalign="left|center|right" width="30%"]8 hours left until handover, the lights switch down to emergency lighting… [/pullquote]We could not overide the timer on the BMS panel to turn the lights back on. Phone calls were made, but at midnight, most had their phones off.
The issue was the large area floor polishing at the end of the job. If we got it wrong it would be awful in daylight and create a serious headache for everyone involved. As you know, when you're handing over a project the floor condition can make or break your handover from the minute the client walks through the door!
We had to make a decision… Do we do it, or do we leave it..? No one would of blamed us for not carrying out the sealing of floors.
When you start floor polishing there's no turning back – get it wrong, and it would cost ICC £1000 to rectify, but get it right, and medals would be handed out! This was a moment of truth, to see if the guys are good enough to seal the floors in such poor light, missing nothing, edging each run perfectly without overlapping any coats of seal.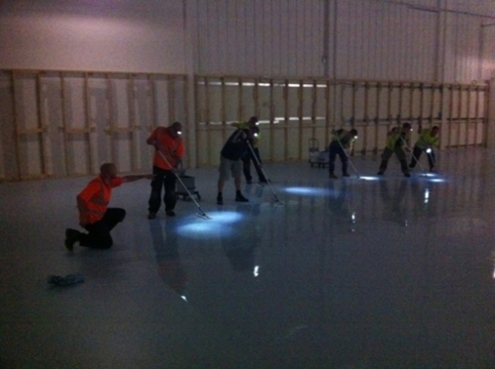 Well, with headlights and torches strapped to their foreheads and mop poles, two coats were applied perfectly. The project was ready for handover that morning and 100% KPIs were attained.
The main client, knowing the problems after checking his answer phone messages that morning, was delighted when he turned up on site. You could see the relief and joy on his face. While he hadn't brought any prizes to hand out, the MD of the construction company graciously took the team for breakfast instead…
– – –
To find out more about ICC Cleaning and our commercial cleaning services, please follow the links below
Related Services
Floor Cleaning
High Level Cleaning
Industrial Cleaning
Sparkle Cleans